St Margaret's School for Girls invites primary girls and boys in schools across the City and Shire from P5-7 to participate in a Democracy Poster Art Competition
In the centenary year of the vote for women, St Margaret's School for Girls is delighted to invite Primary 5, 6 and 7 pupils from Aberdeen City and Shire to take part in our first poster art competition.

The Poster Art Award 2018 has been organised to celebrate the wider theme of democracy, affording pupils a creative opportunity to develop their understanding of what it means to be a responsible and effective contributor to society. We want pupils to think about what democracy means to them, why it is important to have a voice and how they use that voice both at school and in their wider communities.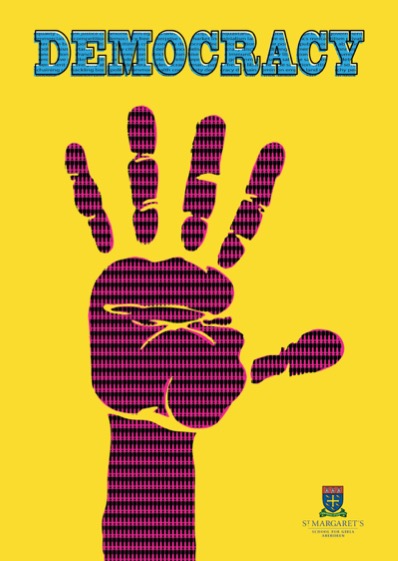 Prizes, which have been very generously donated by Soroptomists, Hobbycraft and Papeterie Crafts, include:
Mixed media art sets for winners and runners up in each category
A paper box and a craft set will be given to the class of the winning school in each category as well as a £50 cash prize.
All entrants will receive an individual certificate of achievement recognising participation in the competition.
All those taking part in the competition will be invited along with their families to attend an exhibition of their work at St Margaret's on Saturday, November 3rd 2018, when the winners and runners-up will be formally announced.
How To Enter
Complete the Entry Form to confirm your school's intention to enter by Friday 14th September 2018.
Gather together the best work produced by your young designers. We encourage entries in any media on paper A3 size. Only one entry per pupil shall be accepted. Each individual entry needs the following information marked clearly on the back:
Pupil name, age and year group
Class teacher
Name, address and telephone number of the school
Entry posters are to be accompanied by 50 - 75 words describing the idea behind the poster and how it communicates the message of Democracy. Please attach this to the back of the artwork.